Three Summer Wardrobe Essentials Everyone Needs
Hello! I'm Rachel, Out of Town's summer social media & website intern. You might have seen me on some of the Instagram posts and stories in the last couple weeks, and now I wanted to do this blog post for you! Today, I'm focusing on what I think are three items everyone needs in their wardrobe for the summer months. With the warm summer air and blazing sun it can be hard to find the perfect outfit that is comfortable, yet cute! So, I found three simple pieces that are easy, fashionable, and can be dressed up or down.
Rompers & Jumpsuits
If you are like me and like to throw something on without putting too much thought into it, then listen up. On days where I have to run a bunch of errands, it's easy to just throw on a t-shirt dress, which I love, but rompers are a fun way to change up your summer wardrobe! Over the last couple months, we've been getting a variety of rompers from casual and everyday, to special occasion and printed. You might ask why rompers? So, rompers are one piece meaning you lose the stress of having to put an outfit together. They're loose fitted and breathable, which is nice when the weather gets really hot. Also, they have an elastic waistband and built in shorts for good coverage so you don't have to worry about your shorts flying up in the wind like you would with a dress!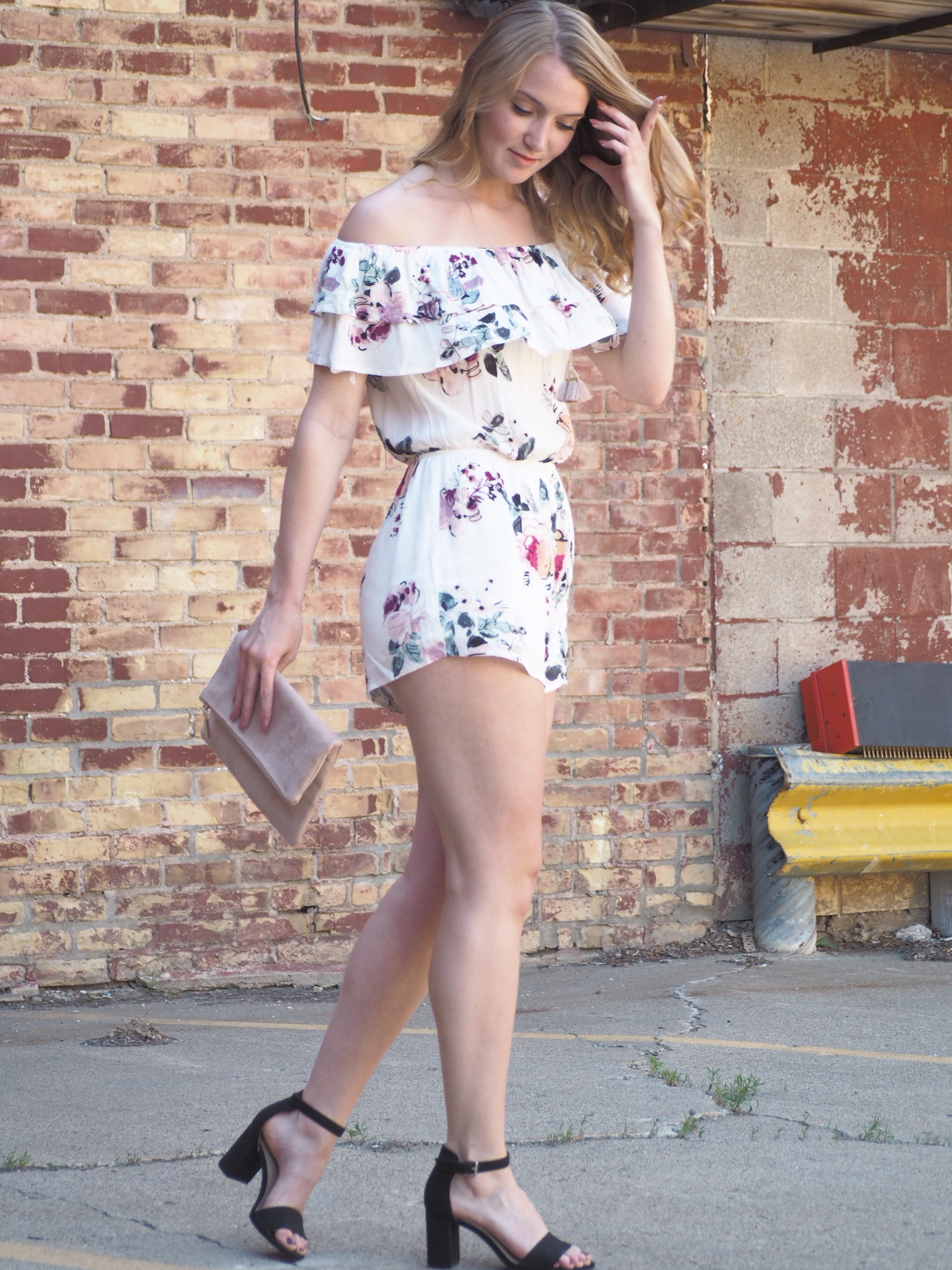 Either way rompers are a summer must, and for this post, we're wanted to focus on this floral off-the-shoulder romper, perfect for that special occasion. I decided to dress this floral romper up with our Sam Edelman heels and a coral nude tote. Wear this and you are ready for any event in the snap of a finger!
One last thing on rompers. So many times we have customers come in and say, "I like rompers, but they just don't fit me right!" Rompers do fit depending on things like torso length, but we have other options that have varied lengths, so don't be so quick to not try them out!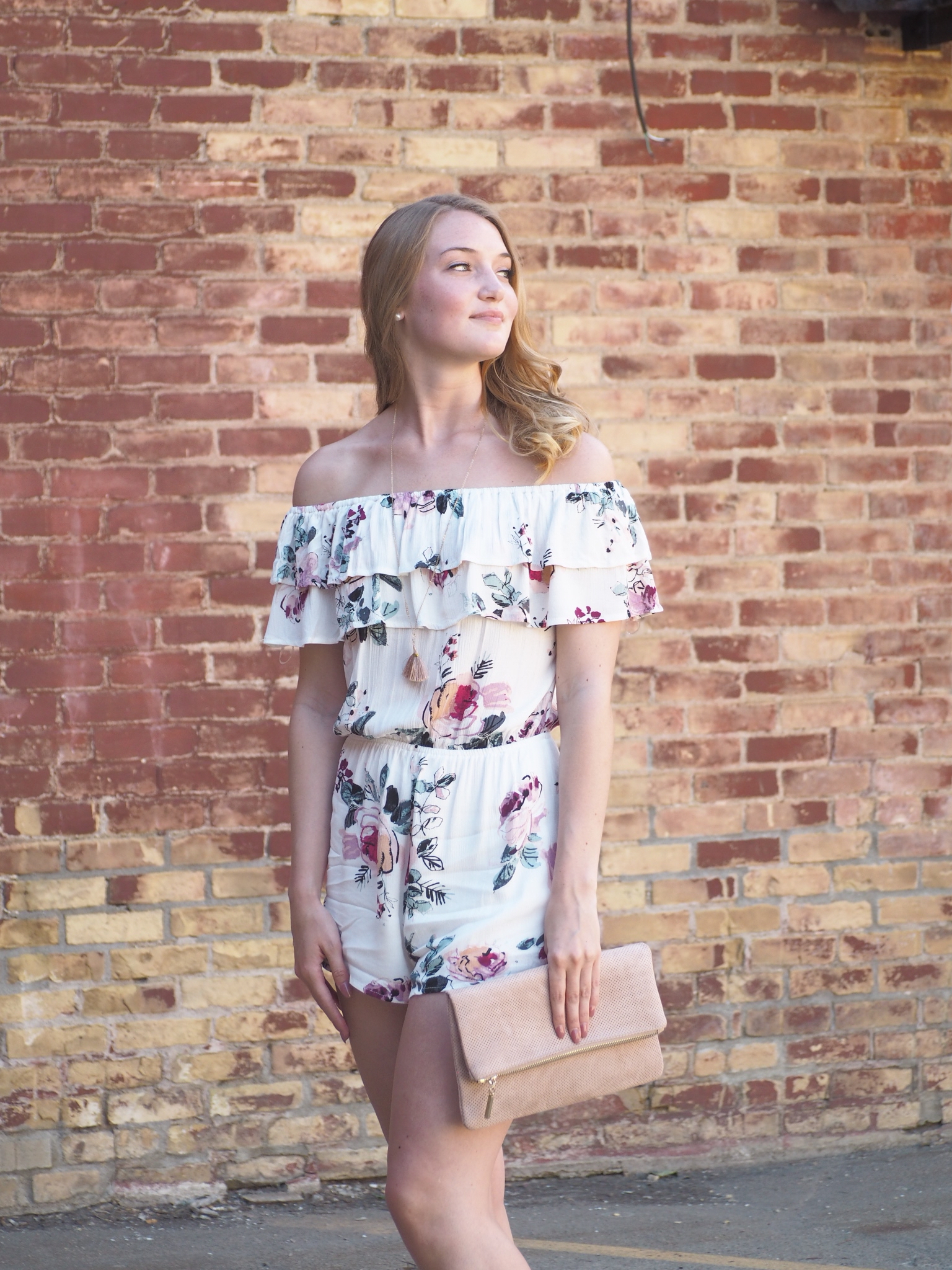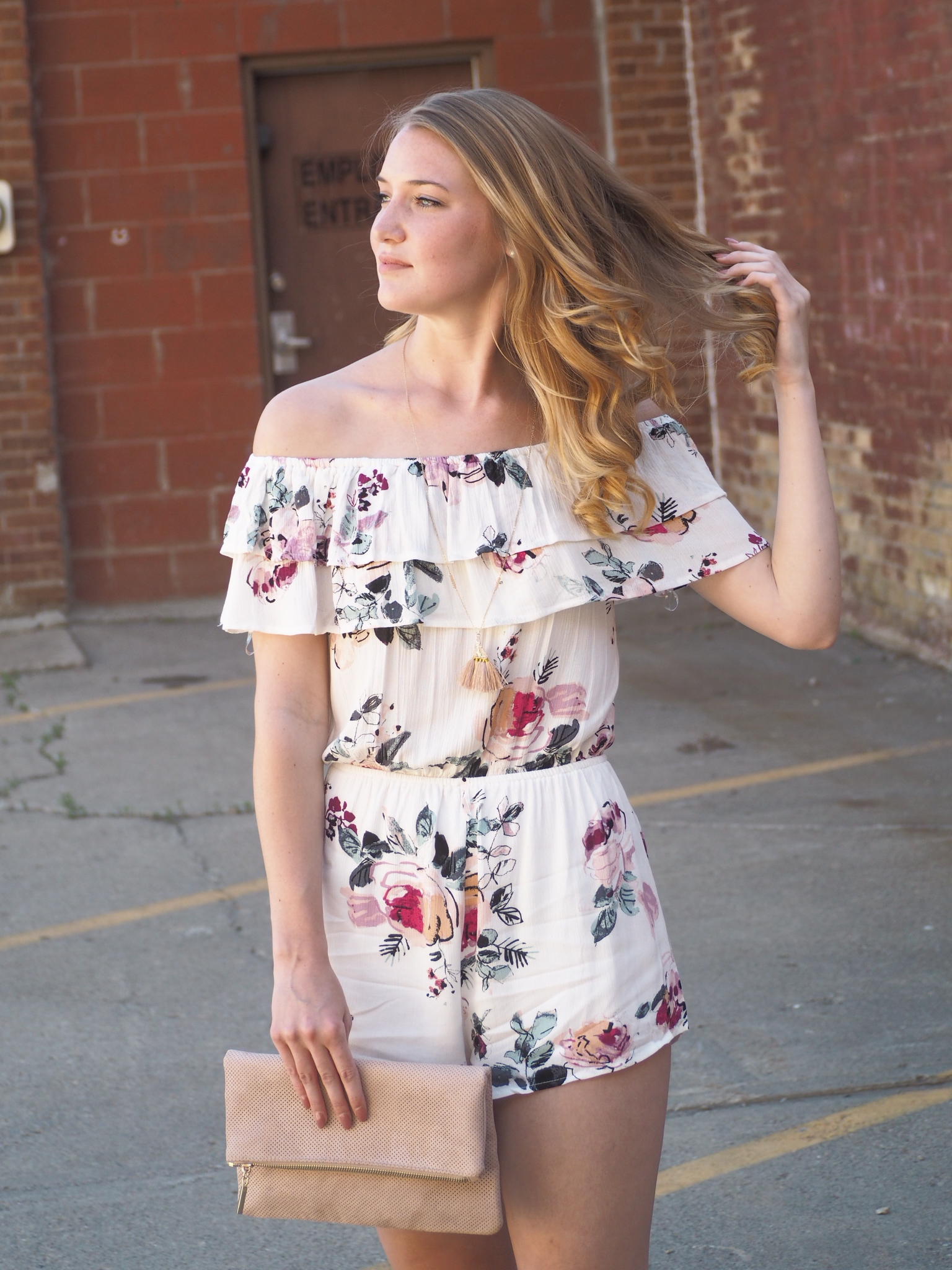 Now onto jumpers! Jumpers are a big trend this summer, and not everyone thinks they can pull them off, but I'm here to tell you, YOU CAN! We love jumpsuits for the same reason we love rompers, because they are easy and really versatile! The noticeable difference between rompers and jumpsuits is that jumpsuit is a pant rather than a short, which is nice for anyone who wants more coverage.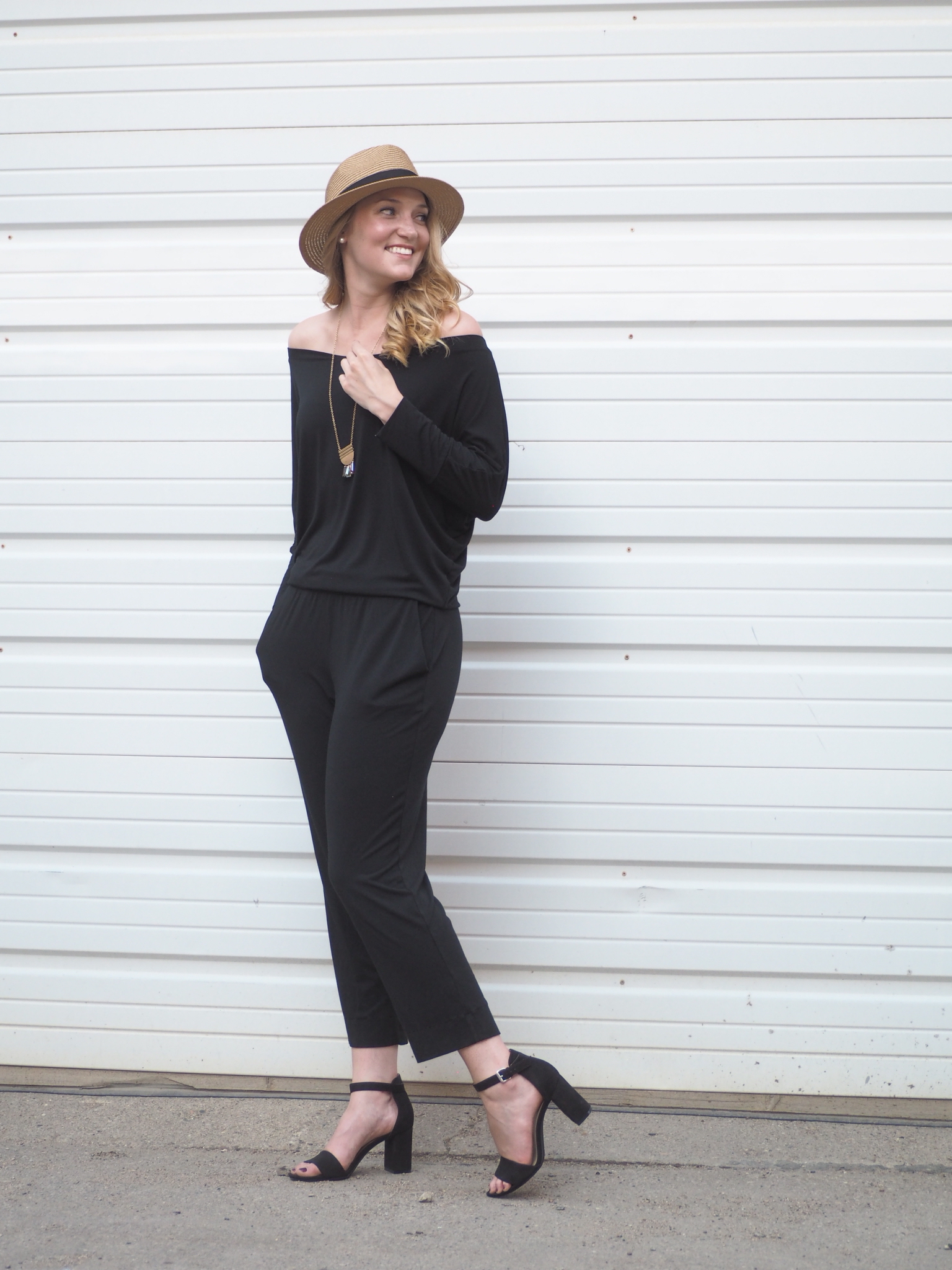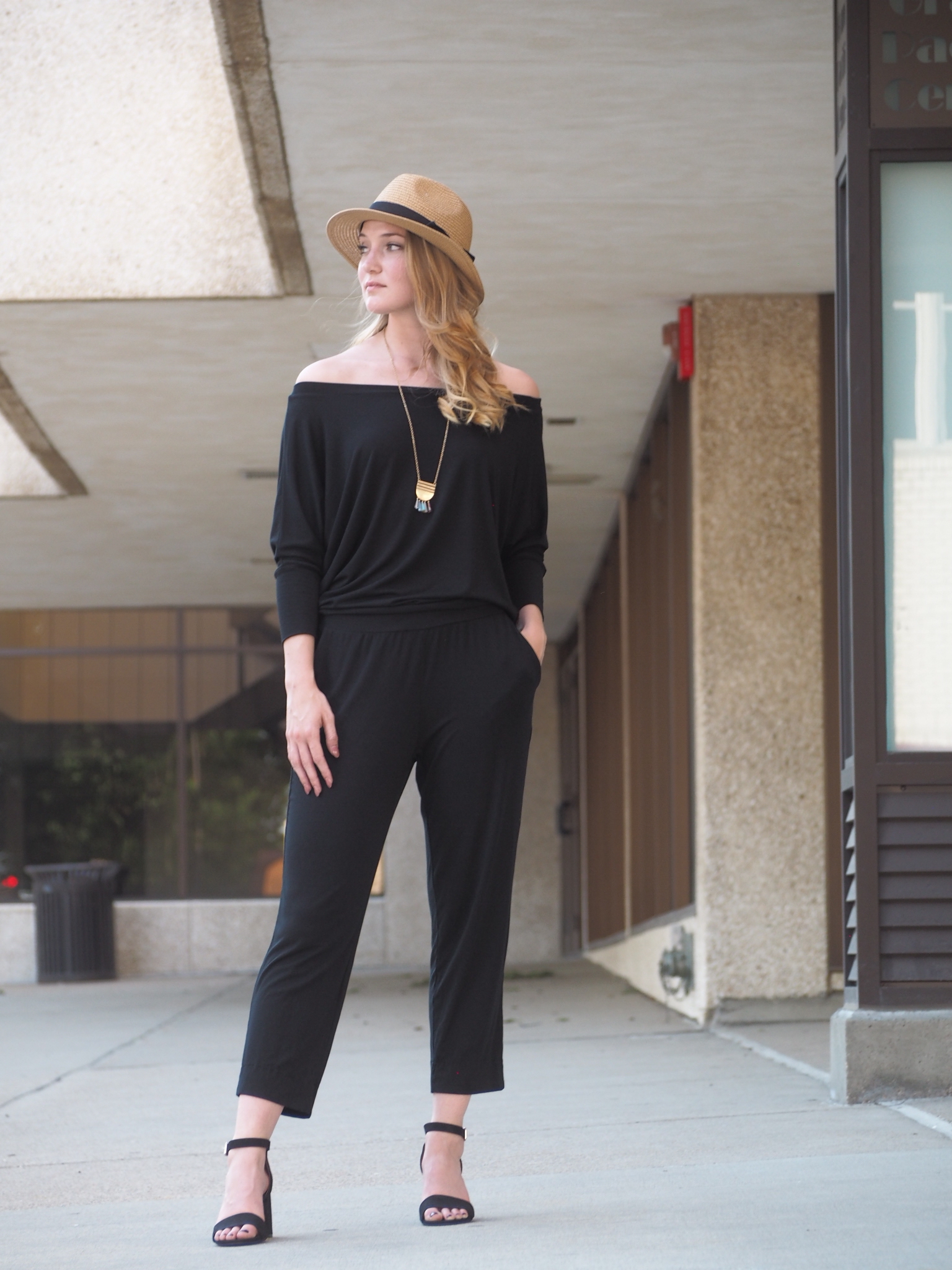 We've had a variety of people tall and short try this Michael Stars jumpsuit on and it fits everyone like a charm. Michael Stars always kills it with their materials, and this piece is something you need to try on to understand the magic. Imagine it styled like how we have it here, but it is super easy to just throw this on with sneakers and a backpack for a day look. This jumper is off the shoulder and has an elastic waistband for a slimming look, (who can say no to that?!), and is cropped which is perfect for summer vibes.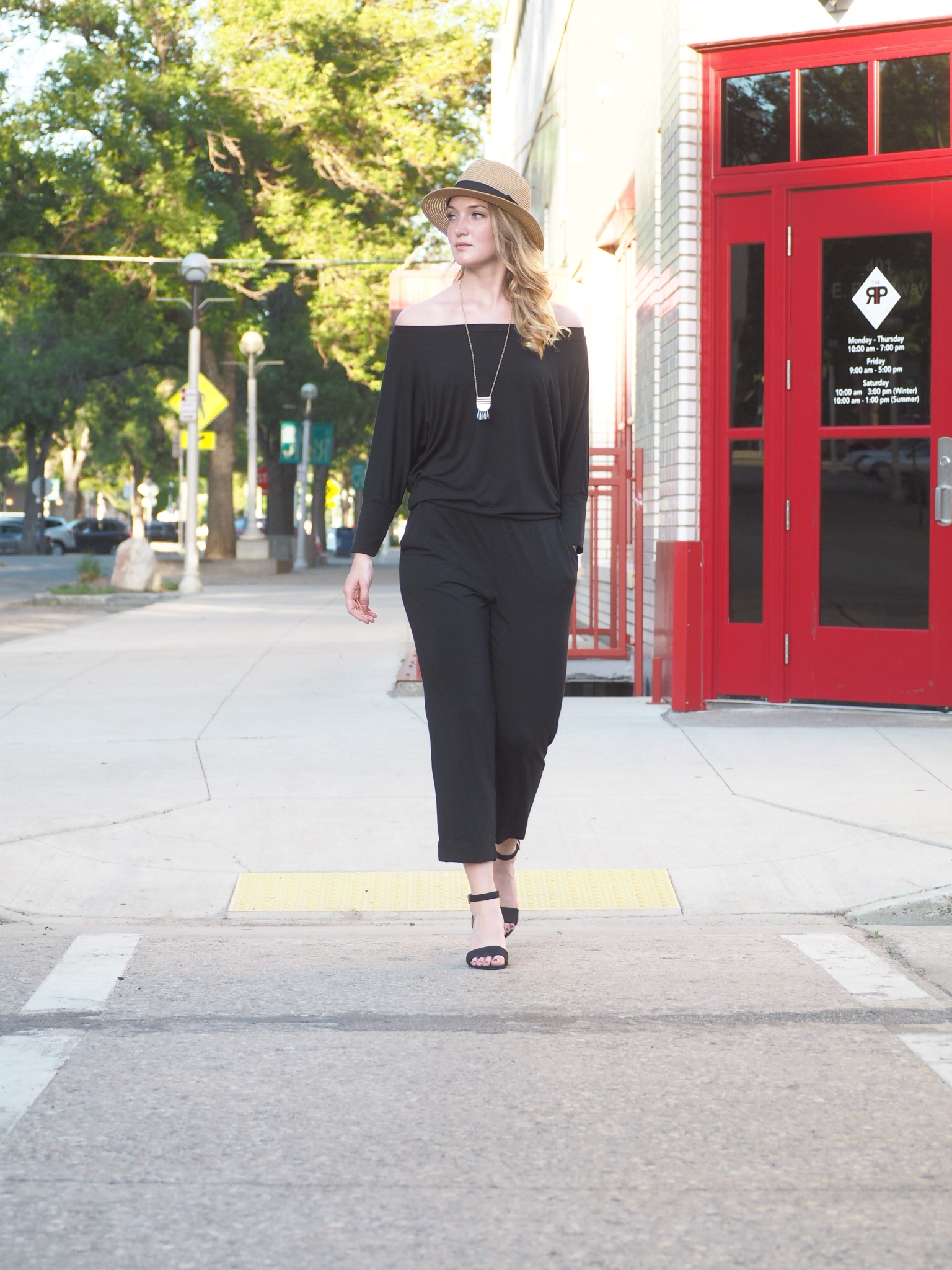 Skirts
When people think skirts, they think of dressy and that's not always the case! This high-waisted button up skirt featuring a front tie-knot can be worn casual or dressy for those special nights. Here we have the casual and EASY look. Unlike rompers and jumpsuits you do need to pick out a top that goes with the skirt, but don't be frightened we are here for you! This skirt can be paired with your more basic tank top like this Havana Sunshine tank with a splash of yellow for a little pop! Throw this on and you are ready to go wherever your heart desires, while feeling comfy and free.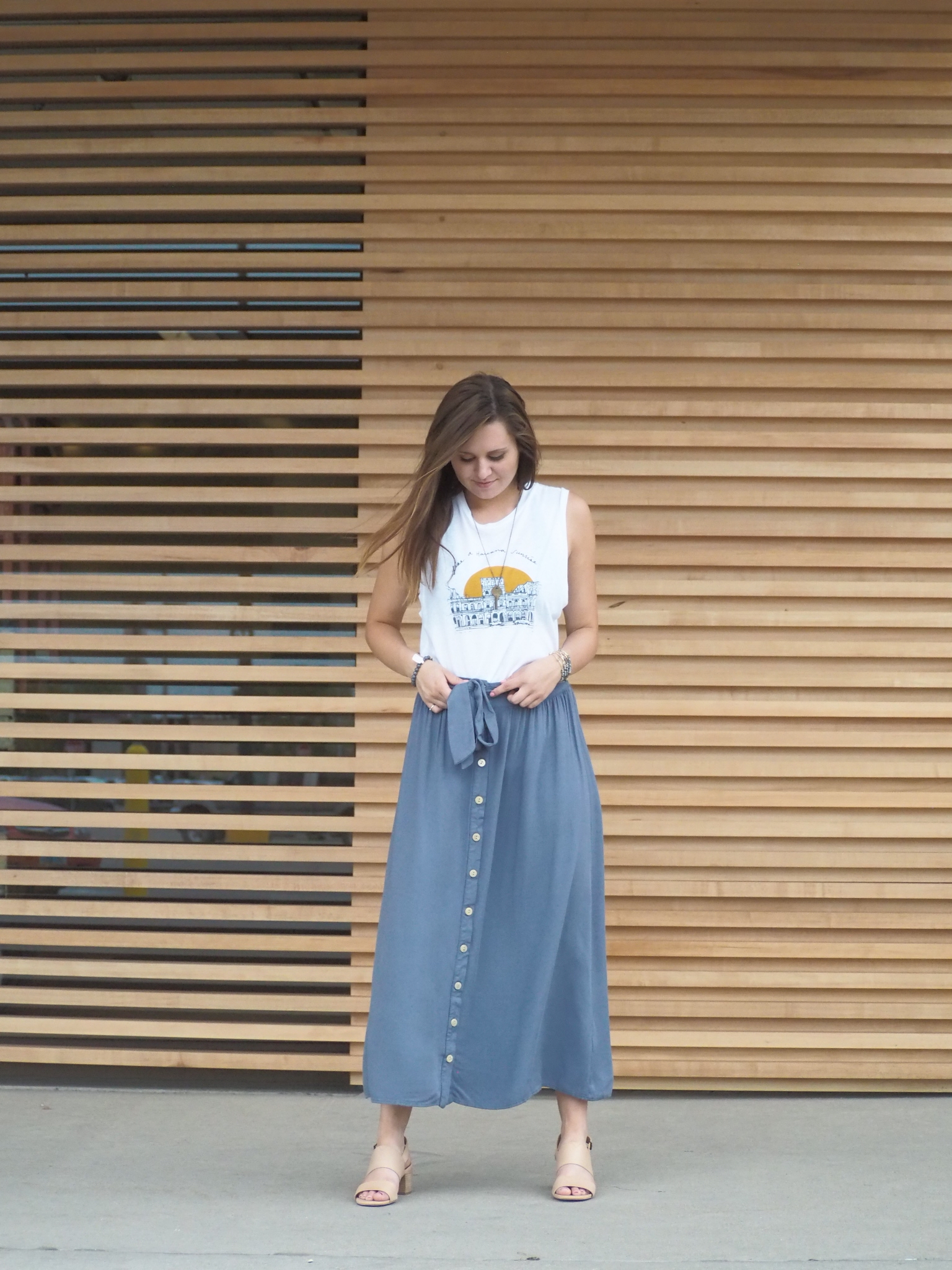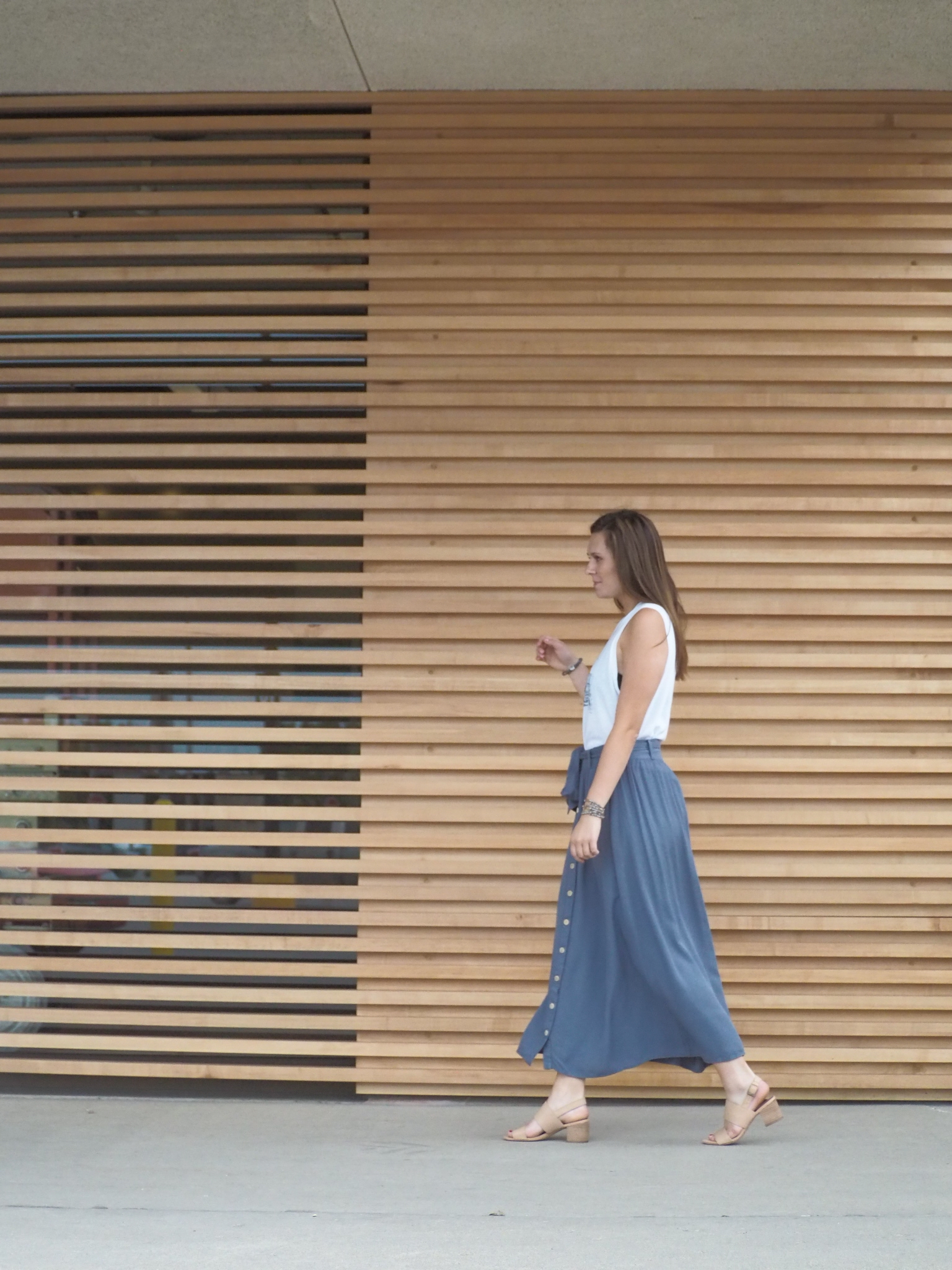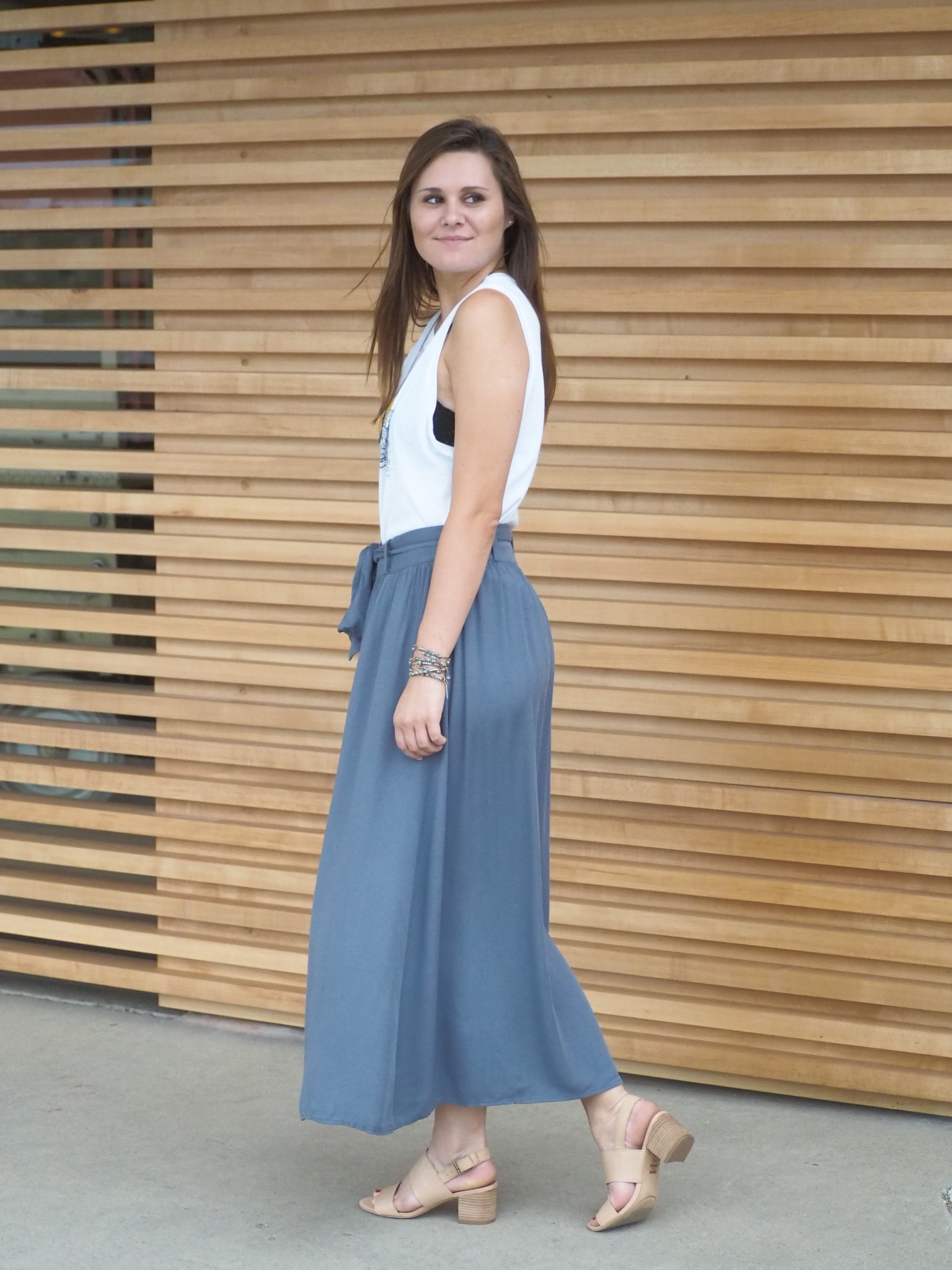 For those of you who prefer a little longer sleeve we didn't forget about you! Here we paired this skirt with a basic white T-Shirt, how simple? This look is more relaxed and boho, which is important for those hot summer days where you want to be cute and comfy at the same time!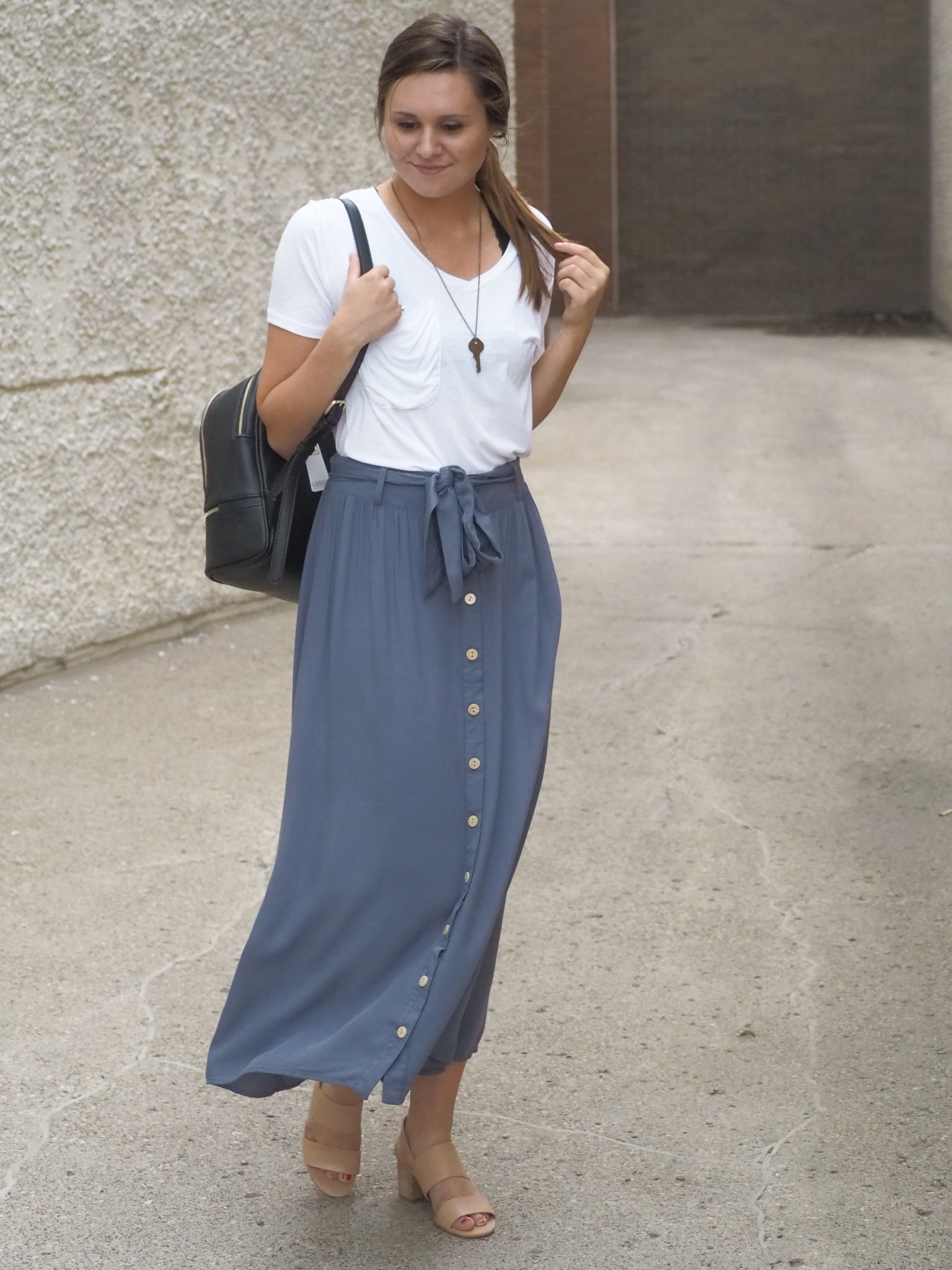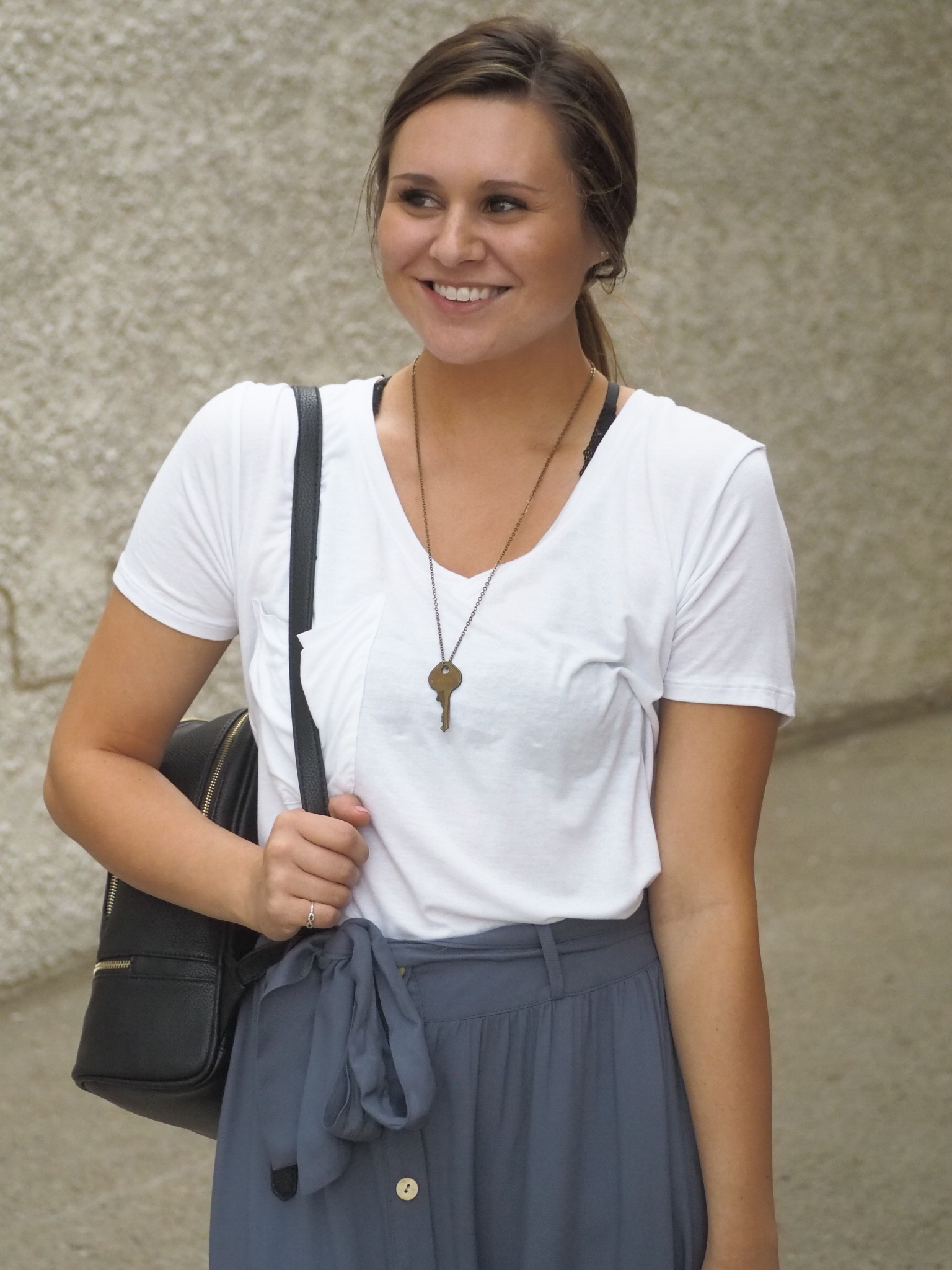 If you are looking for something more sexy and fitted this high-waisted denim skirt is a solid option for you! What we love about this fitted skirt is that it is flexible. I wanted to dress this one up so I found this floral blouse that matched the color of the skirt to perfection! We tucked it in to get the full high-waisted effect of the skirt. I know I'll be wearing this outfit out for cocktails with my girlfriends!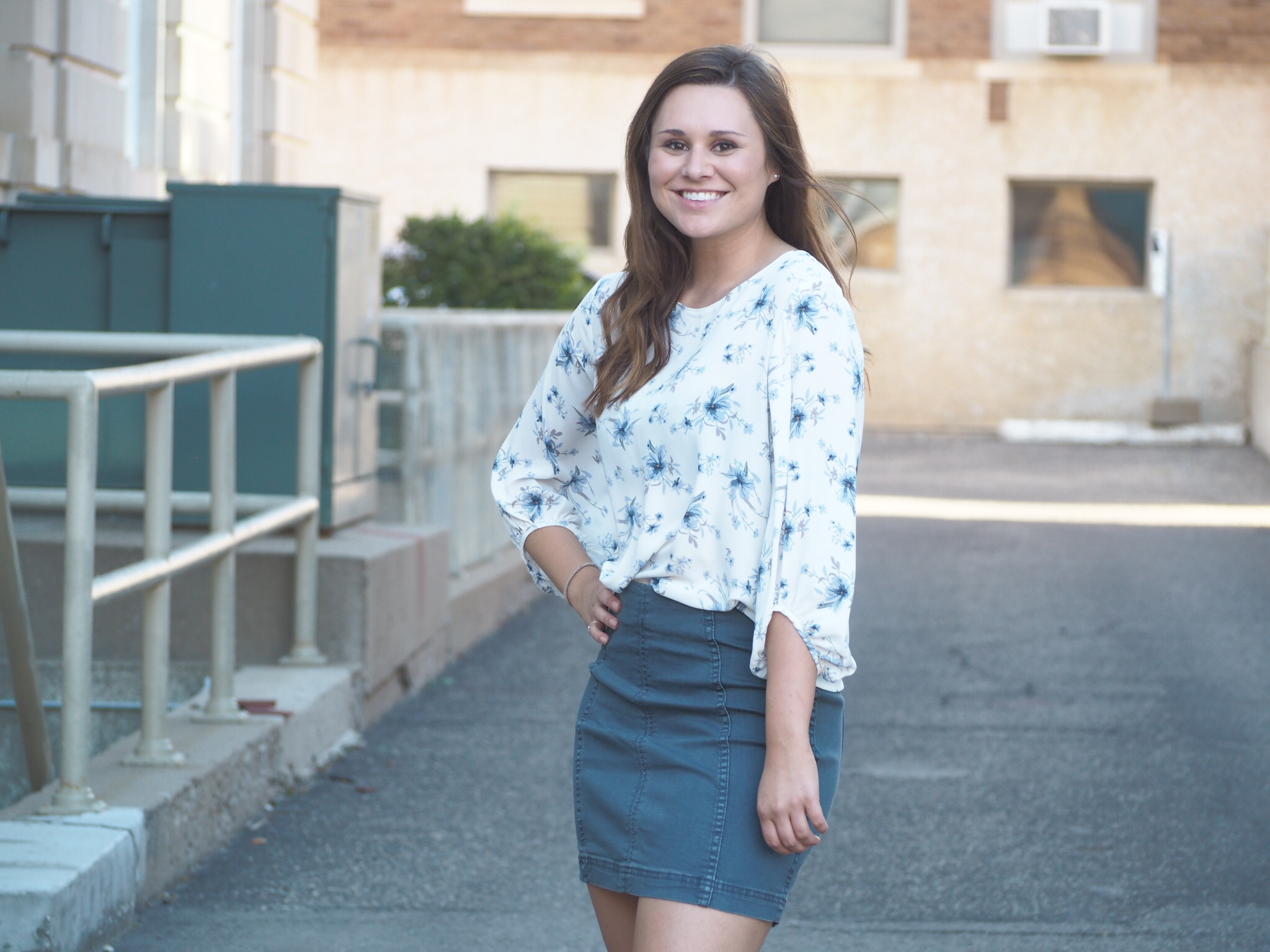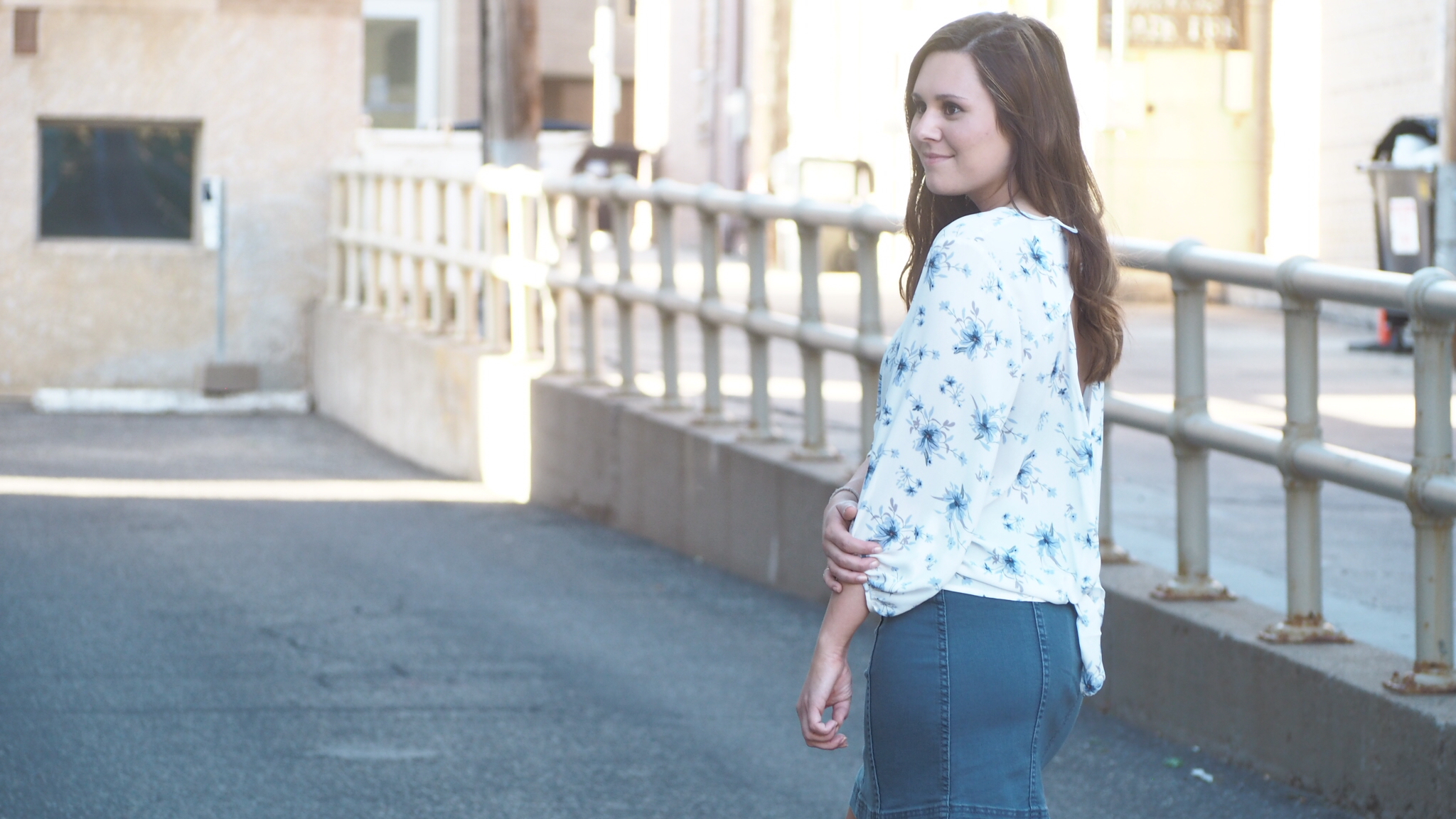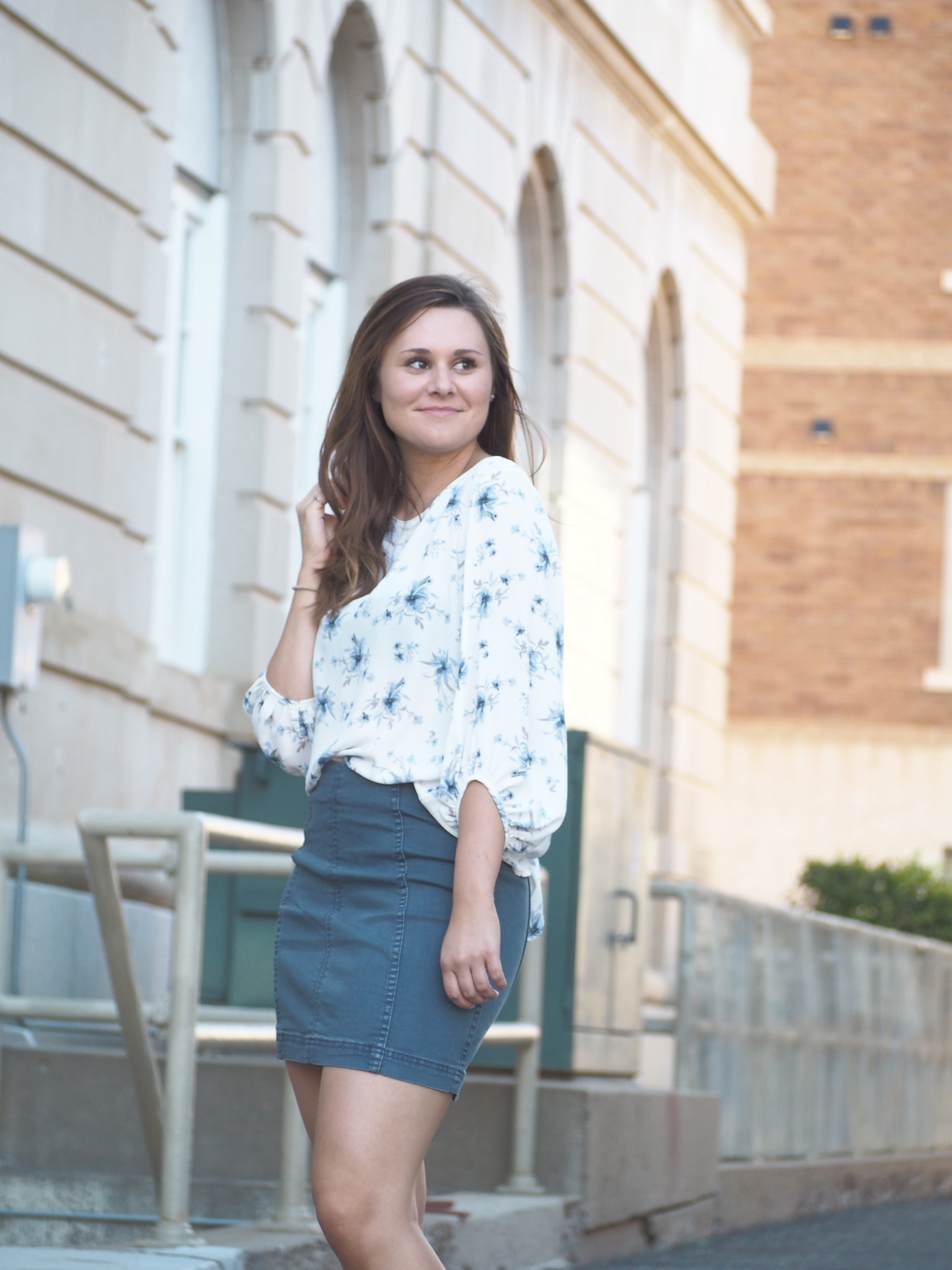 Levi's Denim Jacket
Lastly, You've probably had a denim jacket in your closet for a while now, but this season they're a little different than the ones you might have worn in the past. It's the season of slightly slouchy and boyfriend jeans, so now it's time to meet the Levi's oversized denim jacket! I'm always looking for something to give my outfit that extra something and let me tell you this oversized jacket does the trick! Being in North Dakota the weather can be unpredictable so it's always a good idea to bring along an extra layer just in case! This Levi's denim jacket is just enough for summertime when there is a cool breeze in the evenings.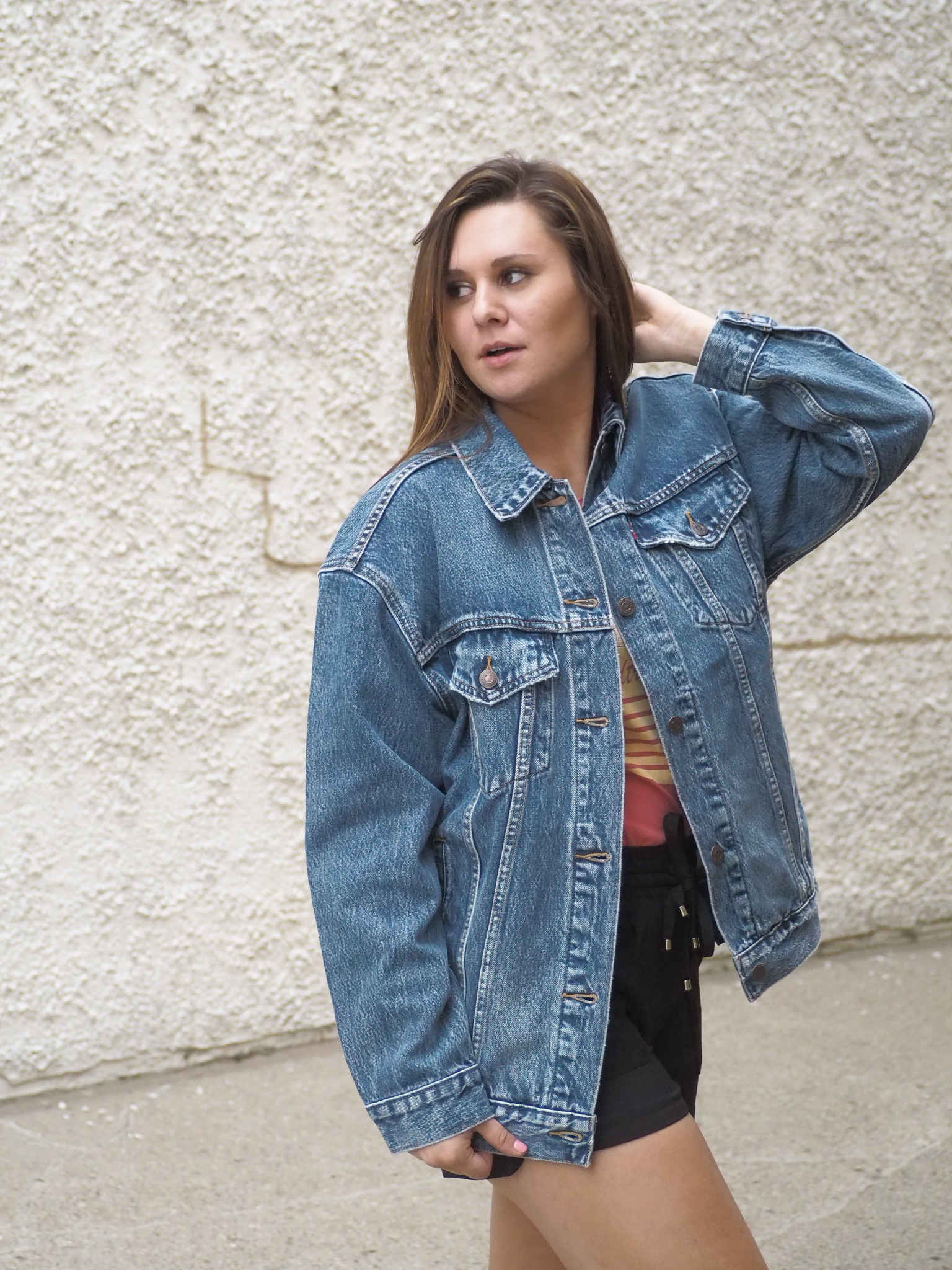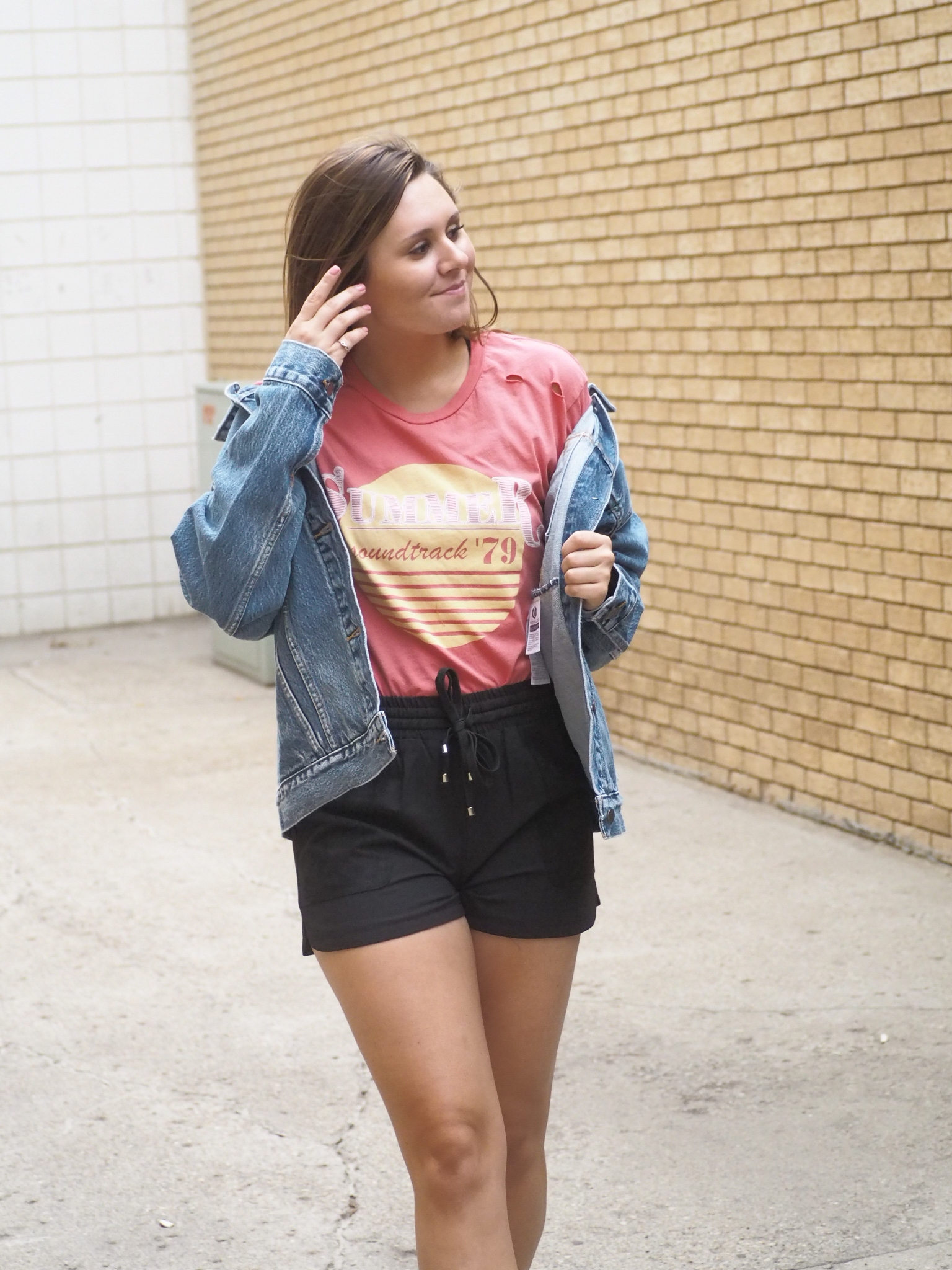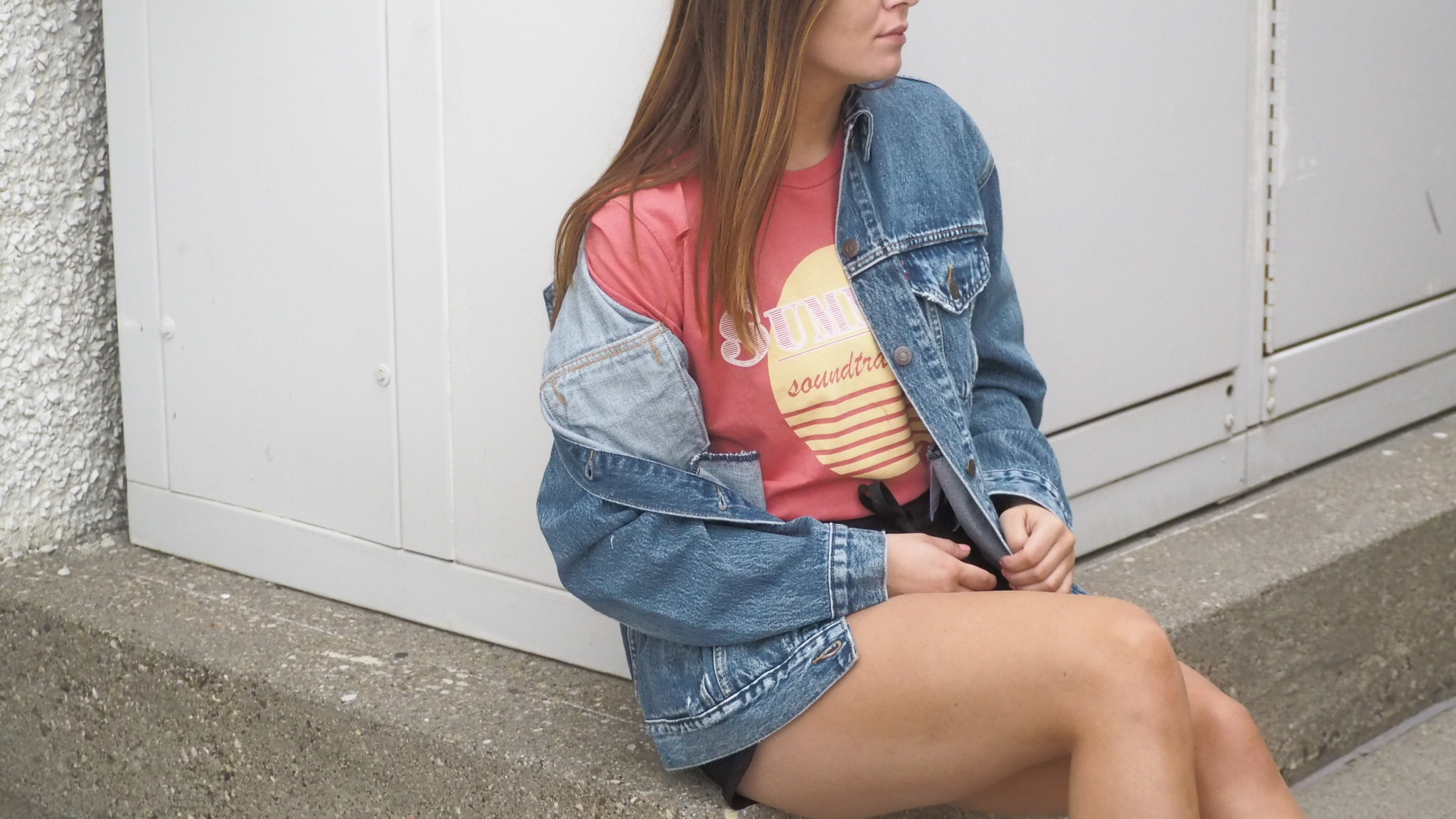 I decided to go casual with this look so I'm wearing a distressed graphic t-shirt tucked into suede shorts and white Frye sneakers. This Levi's jacket is versatile and can be paired with just about anything! Lets just say it's no secret that we are obsessed with the 90's vibe of this jacket!
Well there you have it, three easy summer wardrobe essentials for your closet! It's nice to have these options whether you are running errands around town, or out for a night with your friends. And so much of this stuff is easy and versatile, which makes it worth the splurge. If you are around Bismarck or Dickinson this weekend stop in and say hi, we would love to see you!
LINKS:
Michael Stars Jumpsuit online here.
High Rise Button Front Skirt online here.
High Waisted Denim Skirt online here.
Floral Blouse online here.
Levi's Denim Jacket online here.
TOMS Nude Heeled Sandal online here.