Check out our latest spring shipment from one of our favorite brands!
Hello! It's Seth coming at you today with our latest blog post. Brooke's a busy girl so we're gonna give her a break on this post ;)
So even though North Dakota weather may not show signs of spring just yet, retail moves full speed ahead into spring styles after the holidays! It makes it hard to not have spring fever when you're unboxing spring colors, prints, and styles every day, and so far this year has not been any different.. because who needs a paycheck when you can just continuously add to your wardrobe?!
We've been carrying Free People here for as long as I can remember (hard to believe it's been over 6 years!) and there's no doubt Free People has been a house favorite, which is why we're highlighting our latest shipment from them. I think two reasons I enjoy Free People is that 1) they always have such unique styles and cuts. There have been times I'll be unboxing something and my first impression when I get it on a hanger is, "K how am I supposed to make this look flattering on someone?" Some of you may have thought this when shopping, but then you soon find out that once you try it on you're blown away that it's actually a super cute style. It really is the whole "try-on effect." Some things just don't look cute on a hanger but all of a sudden you try it on and *bam* you're up at the counter adding something unique to your wardrobe.
I know Brooke & Kelsey have a really tough time narrowing down their choices when they see Free People at market, but they do a great job of picking a variety. Not only do we get those fun & different pieces, we also carry some solid basics from them as well. Which is reason number 2 that I enjoy Free People in the store! If some of their cuts just are not doing anything for you, you can always count on them to have a cute bralette or a base layer top that's versatile.
Okay, I should probably move onto the point of this post! So this last week both stores got a new shipment of Free People, and needless to say we're a little obsessed. Keep in mind, if you want to find these items on our website, clicking on the pictures below should direct you there! So, now let's take a peek at what's new: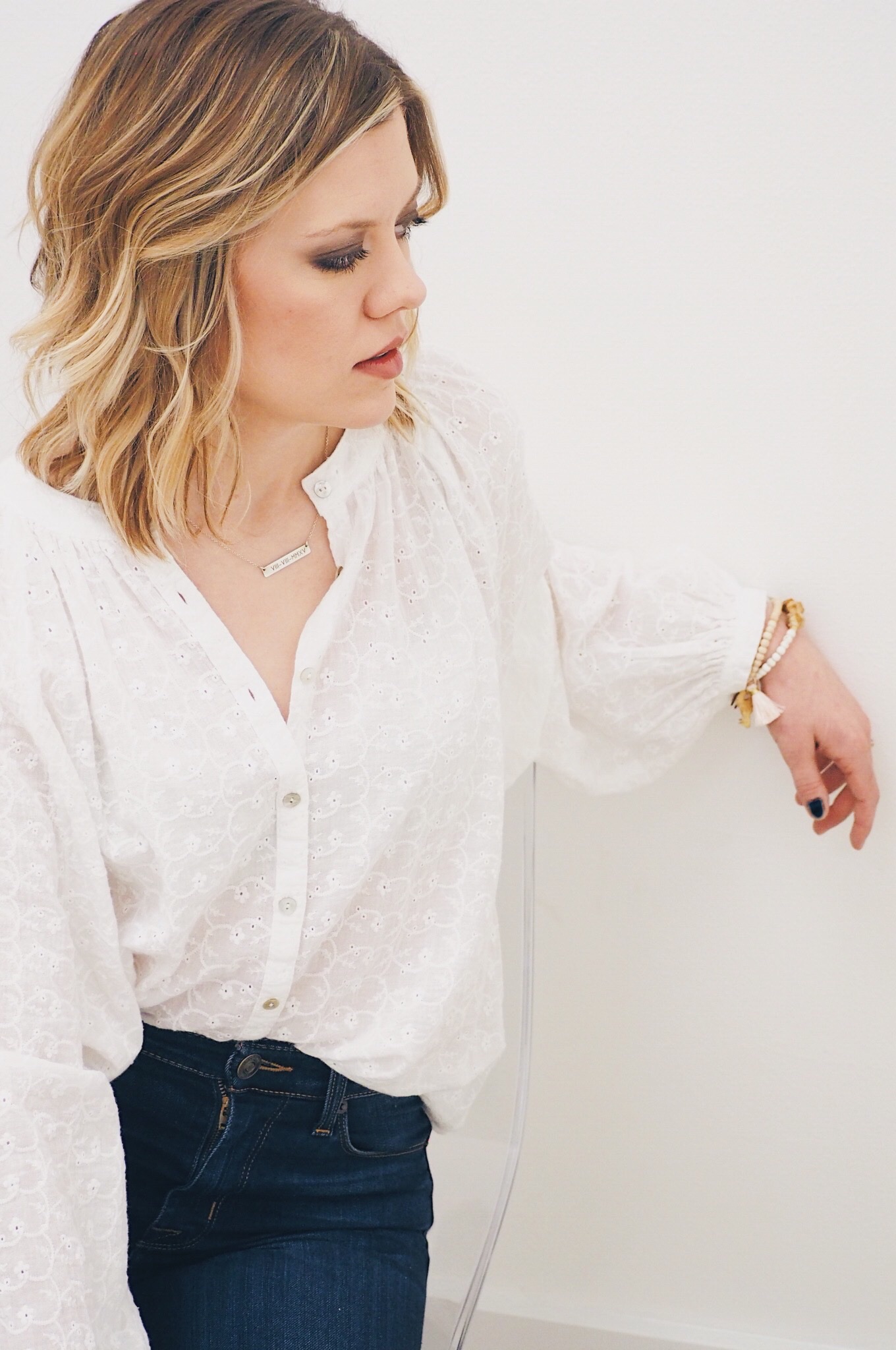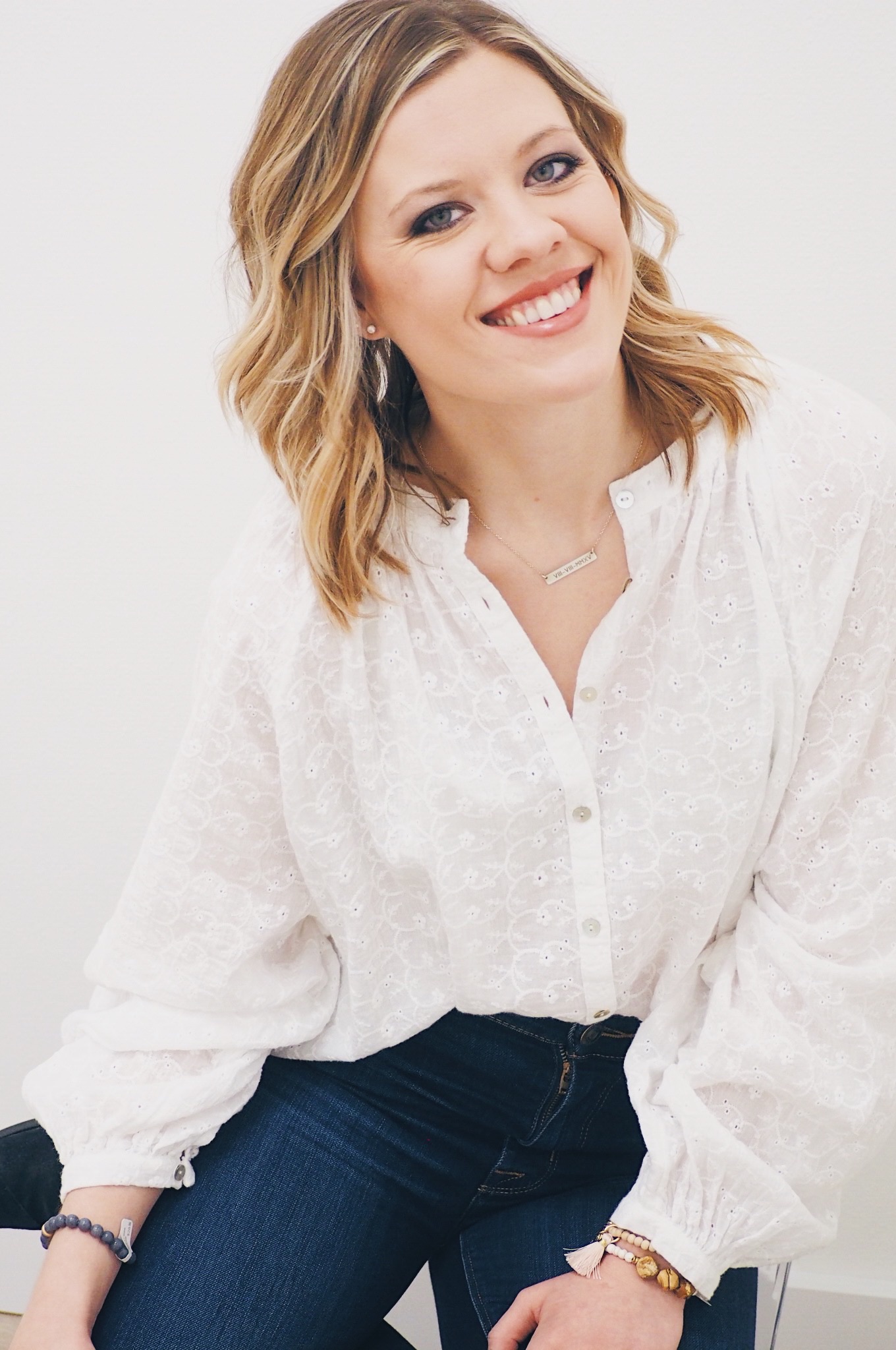 So we're starting dressier with this top. One thing you'll also notice from Free People is their attention to detail, even down to the stitching. Every woman needs a white blouse in her wardrobe, but this one specifically will quickly become a favorite. First off, it's 100% cotton so it'll be perfect for when the warmer temps start to arrive. But just look at the detailing on the pattern, and you'll see why we love Free People so much. This blouse specifically is a full-button front and being that it is a flowier cut, we went and did a side tuck with the hem. We style customers with this tuck on a lot of cuts just to make sure they don't get lost in a a boxy or flowy silhouette. You can shop this look here.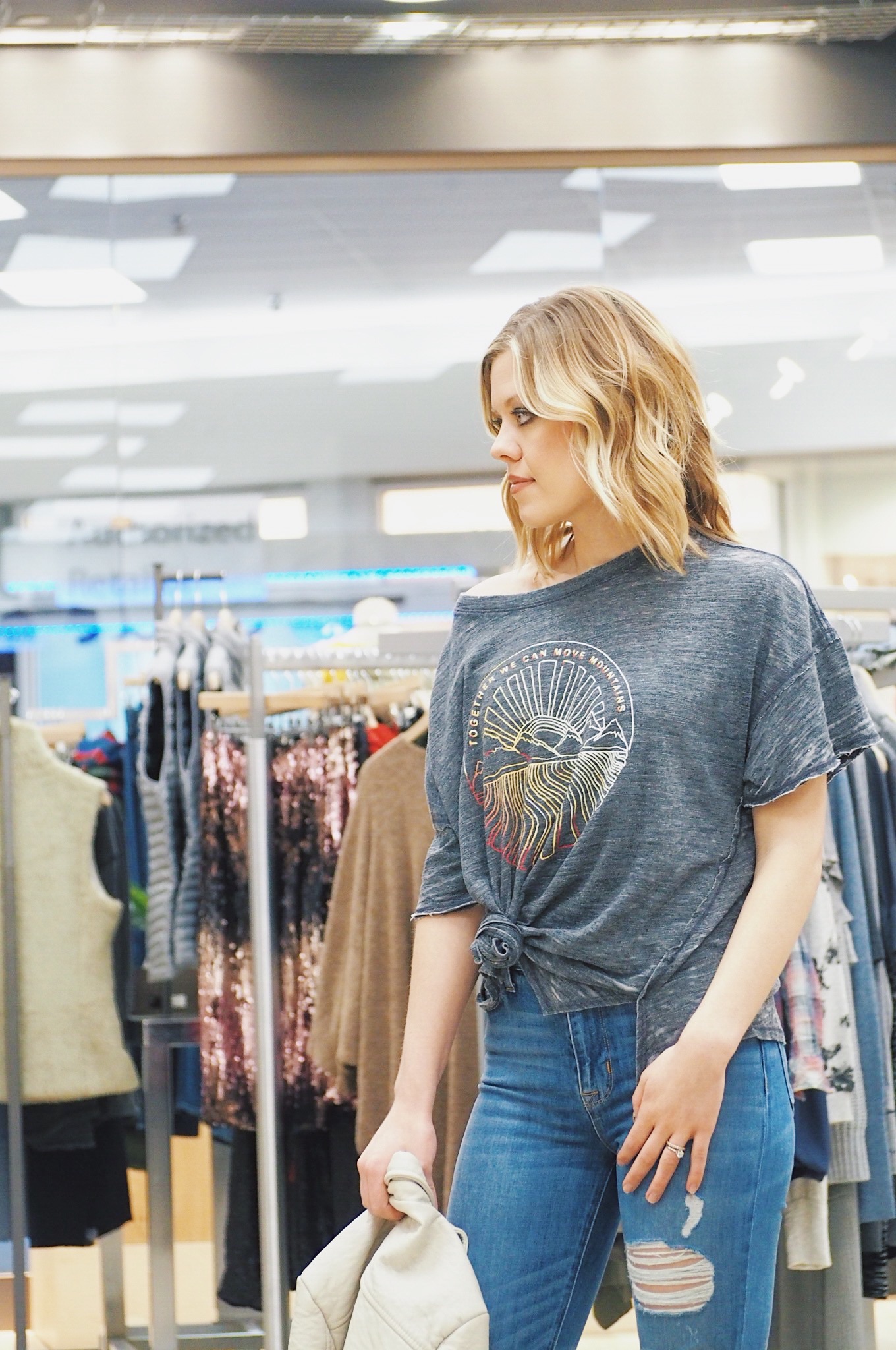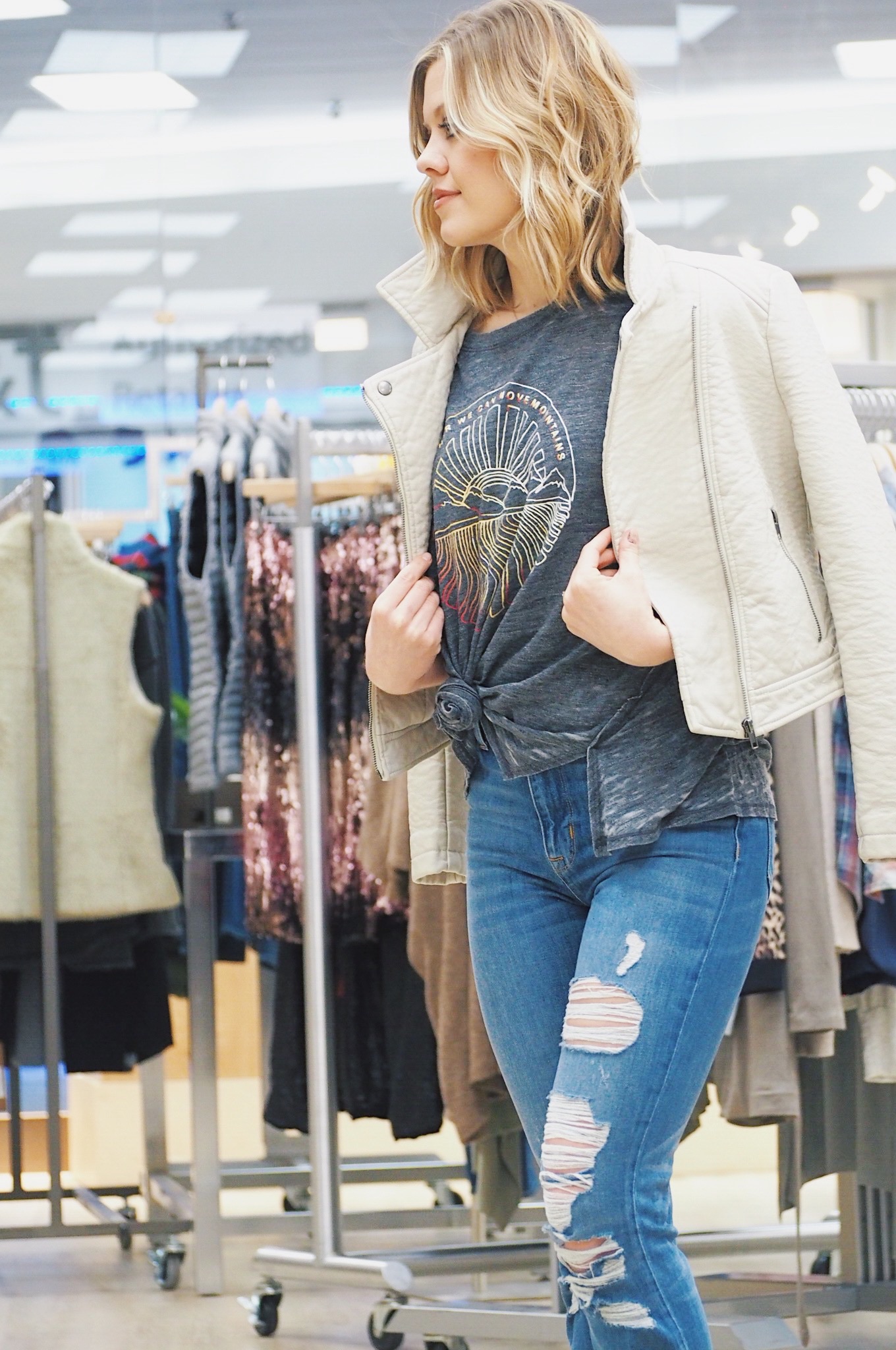 Now shifting to a more casual option, we have this Jordan Graphic Tee. First off, you feel it and it is super soft. It looks flowy on a hanger but it is actually a really flattering fit. As you can see on Brooke, we went ahead and tied it along the side and wore it off one shoulder. So cute. We decided to do this because it's a fun way to add something fun to an outfit in the springtime. A quick note on if you do want to style it like this, we went up to a size medium on Brooke Plus if you want a more fitted look, this will help eliminate some of that extra fabric. This is nice to layer under a jacket to wear now, but can easily be worn through summer.. love!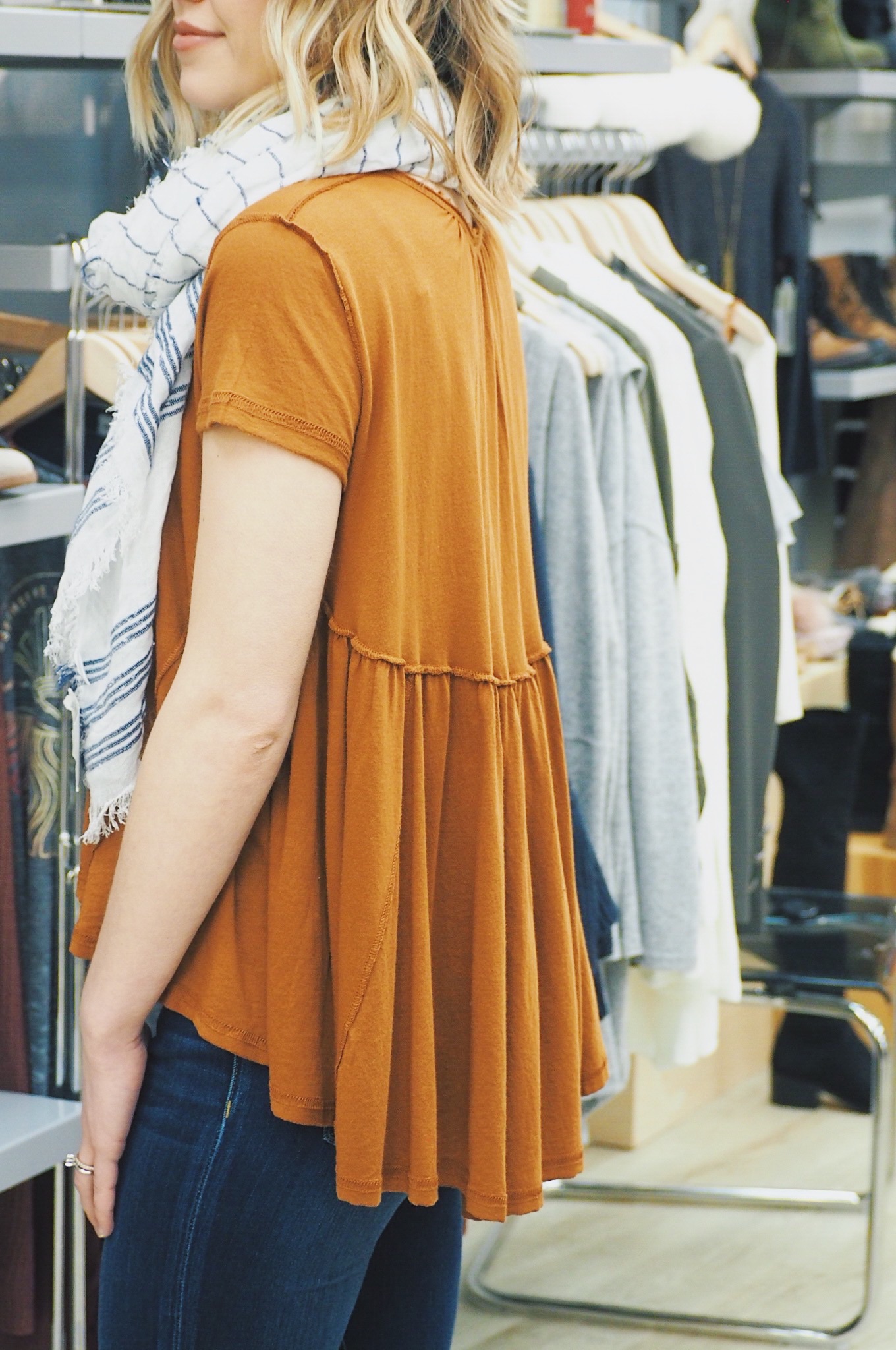 This next piece combines both my points with Free People: the basic top and the cut. From the front, this top looks pretty simple, but the real kicker? The side and back peplum detailing. It has just the perfect amount of flow! We're already low on quantity in Dickinson, but we can always bring some from our Bismarck location if you think you're needing this ;)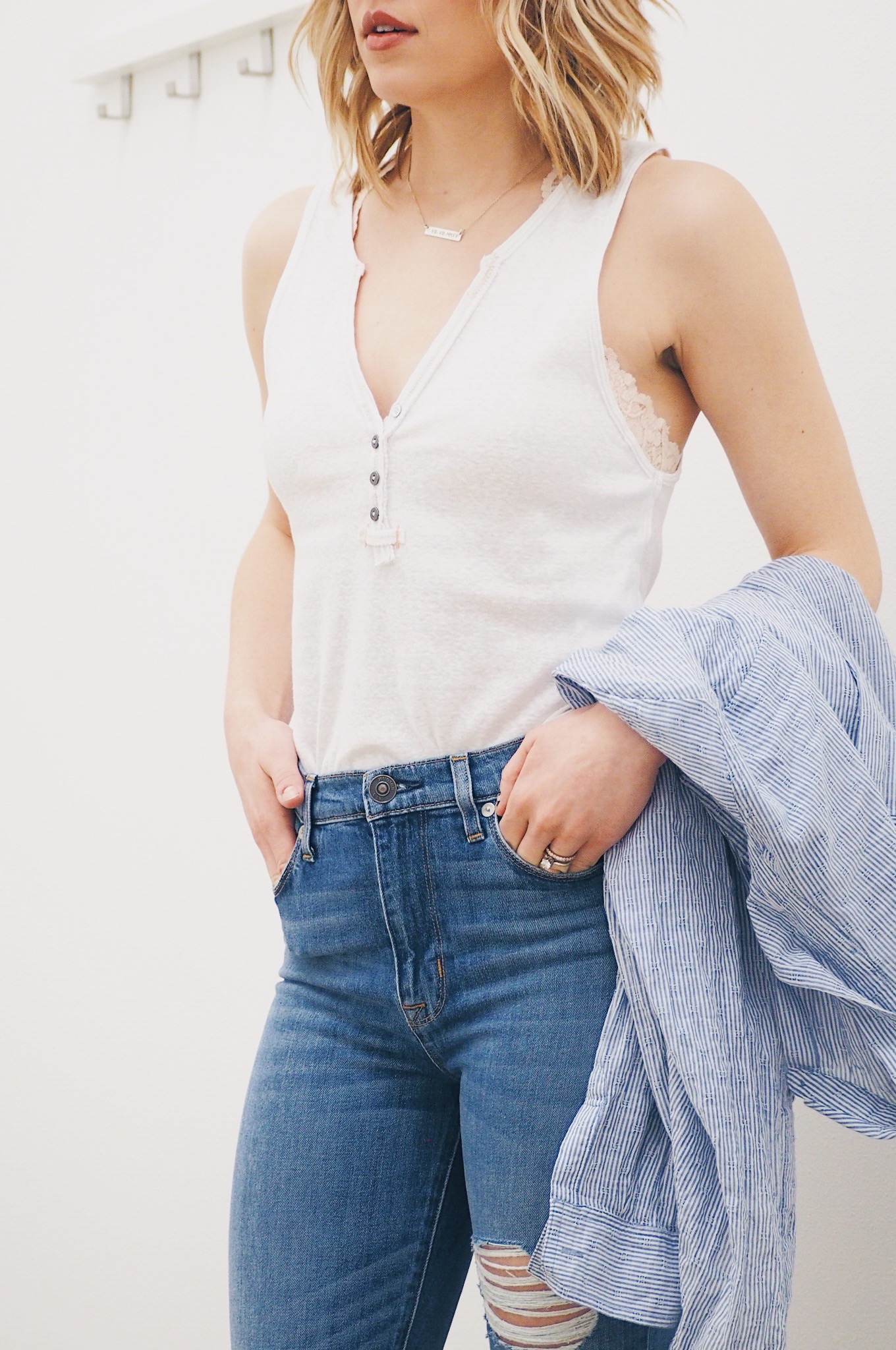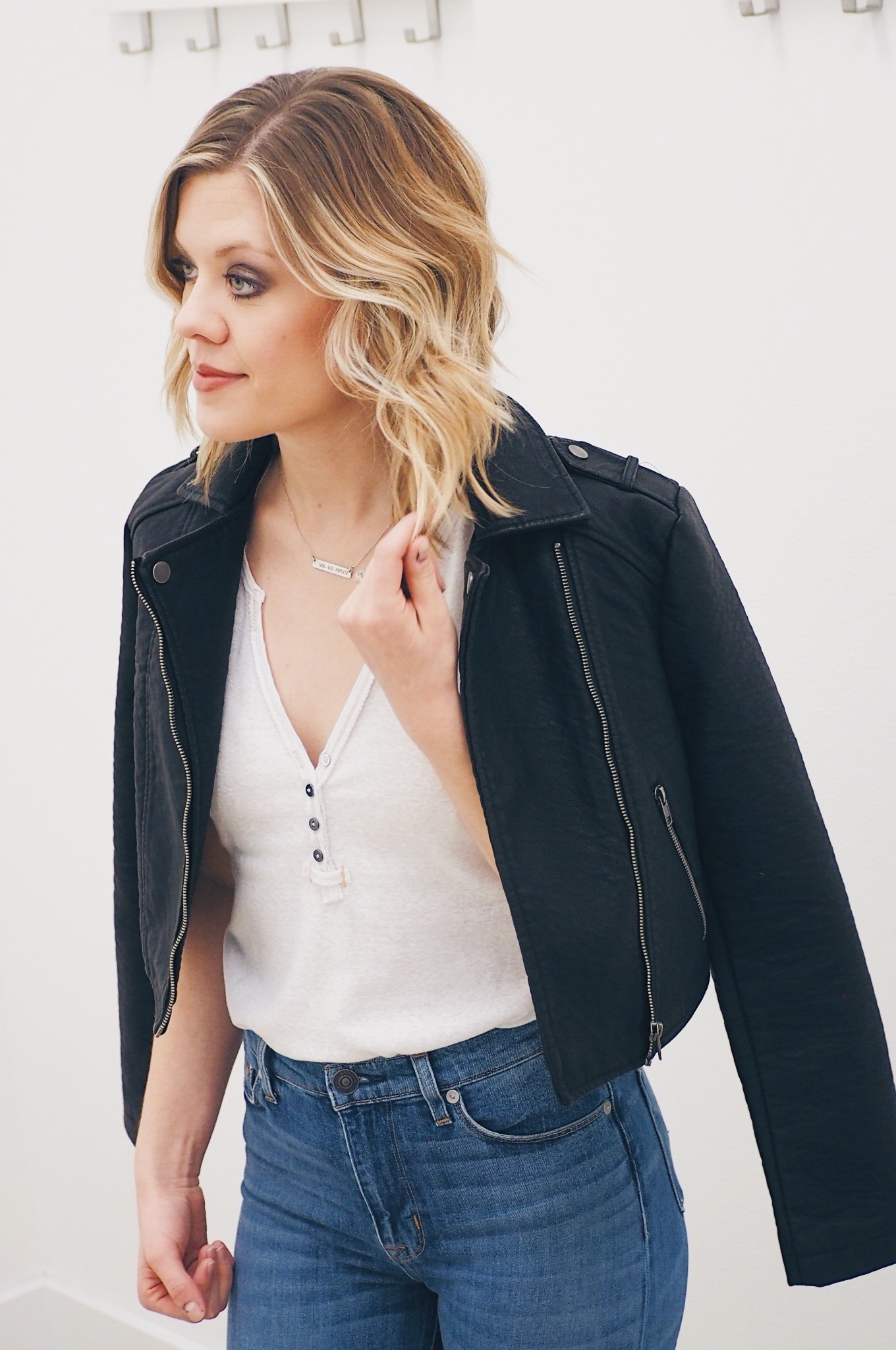 Can a woman ever have enough white tank tops? I would go with no, but if your answer is yes, then I'm going to say that you don't have one quite like this! It's nice to have the button details along the front. It just makes me think of a relaxed spring/summer look. It's a good base layer that can go under whatever you want, and it pairs well with jeans and shorts! We threw this one with a cropped leather jacket and Zoeey by Hudson since it's still chilly. Plus it's machine washable.. God bless. & these Free People tanks are ones that will last you for more than one season! Shop this look here!
So I saved this one for last because it is my personal favorite of the shipment. I mean, can we take a moment of silence? I'm so dramatic. Free People titled this sweater the, "I Can't Wait" sweater. Clearly that's a signal that you shouldn't wait on grabbing this style! This sweater is a prime example of seeing the cut and thinking, "interesting..." but again, you just have to trust Free People! Blush is still a color you're going to see through spring, and it's so nice to have some unique spring sweaters on hand. It also has more of dolman sleeve to it, along with being a little shorter. Think more of a higher waisted distressed denim with this sweater!
Okay, well I better wrap it up here. We just really wanted to showcase this new Free People for you! If you have some time this weekend, come shop in either of our stores! We've had a lot of cute spring stuff coming through the doors. Or if you're a little further away, most of the arrivals are up online!
Have a lovely weekend!
-Seth